Reviews
Reviews and recommendations from Danube Cycle clients
---
Really good tour.
The hotel Revita Kocher (St. Agatha) was fantastic. We got Feng Shui rooms which were really the highlight of all the hotels we stayed in.
Interesting restaurants we've found:
Figlmueller for Wiener Schnitzel in Vienna.
L'Osteria for enormous delicious pizzas in Vienna (by the Prater).
The bicycle handover was a little "rushed". My wife didn't notice that she didn't receive a lock. We phoned the next morning and they sent a lock to the next hotel, which was very good service.
Jonathan Shalev
August 2016
---
We had an amazing holiday, we've enjoyed the bike tour and Vienna, and everything worked as planned – bike hire, luggage transfer, hotels, and arrival to Vienna
Austria is beautiful in it's views and life style, and everything is so calm and clean.
Yifat Binyamini
July 2016
---
Dear Danube Cycle team,
We would like to thank you so much for an excellent trip, everything was just perfect!
We attach some photos from our trip,
Best,
Bartok family
July 2016
---
Really enjoyed the ride , track and service.
Yehuda Saluk
June 2016
---
the tour – 6 days of riding from Passau to Vienna was very well organized by the company.
The riding was at our own pace and we were free to explore along the route as we wished.
The coordination of the tour and itinerary was perfect for us. transfers were all on time, the bikes well kept and all of the hotels were clean and comfortable.
The voucher booklet has good tips inside.
We failed to find exciting new highlights but i must say that we found all of the hotel restaurants fairly reasonable. As we were traveling on the off season many restaurants and cafe's were closed.
But nothing can beat a picnic lunch on the path. be sure to map out the supermarket in the town you are visiting so you have your snacks in your saddle pack.
Taal Goldman
June 2016
---
We've had a wonderful holiday and all the arrangements worked very smoothly. We were very impressed! Thank you so much for looking after us so well, we would highly recommend Danube Cycle to anyone.
More directions to the hotel would have been great – perhaps a small map printed in the booklet? But otherwise everything was fantastic!
Wonderful Pizza place in Spitz but don't know the name sorry. Also the public swimming pool in Spitz was fabulous, as was swimming in the Danube in Vienna – a wonderful way to end the holiday!
Raquel Drake
June 2016
---
Hello,
We have been having a very good time. The trip has been planned really
well. Your company has done a very good job.
Eileen Burkholder, May 2016
---
Just wanted to let you know what a great trip we had with Danube Cycle. From the pickup of our bikes to the last drop off everything was great.
The hotel selection was excellent all along the way.
Excellent tour and service all around. Great bikes, excellent choice of hotels and tips for a great ride.
Thanks for your great service,
Bob Lynch, May 2016
---
My Father and I were planning on riding together, but unfortunately he broke his knee while changing trains on the way to Passau, and had to fly back home. We decided that I should ride alone, rather than cancelling the whole trip. A few days ago I finished the route, and it was a dream come true. A real life changing experience that I still have to process with myself. Just a few weeks ago I had doubted my physical ability to ride such long distances for 6 days – and now the sense of accomplishment is amazing.
I would also like to extend my gratitude to the DanubeCycle team for their assistance on the beginning of the trip. The 1st day on the route started quite late under the circumstances, but the bike were brought to my hotel, saving me some precious time, and all the hotels on the route were informed of the change, and accepted the vouchers even though they carried my Father's name.
– Kremms is beautiful, and it's old city is lovely. Also there's a big Caricatures museum – 10 Euros entry. Quite pricey but even the gift shop is nice
– All the hotels booked for me were great and friendly, but on the top of the list stands Revita Kocher hotel in Sankt Agatha. Best Atmosphere, best breakfast!
Ittay Banner, April 2016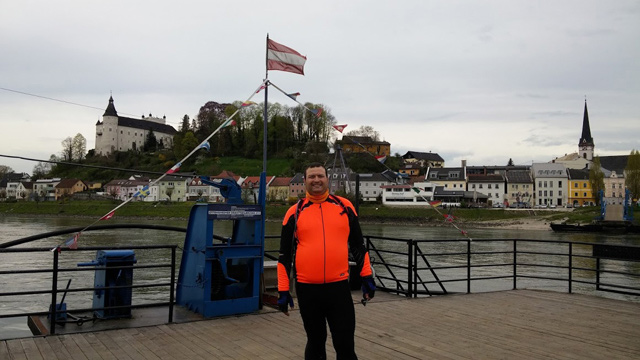 ---
The tour was very well organized
Ainhoa Cabetas, April 2016
---
Great bonding father & Son
Lior Goddes, April 2016
---
"We wanted to thank you for a magical trip you helped us organize along the Danube . We were lucky with the weather ,and everything was just wonderful . We will be happy to hear about any more bike trip suitable for families . Thank you and await to travel again with your company soon."
Israel Bright, September 2014
---
"We got back. It was a beautiful trip. We really enjoyed it. Highly recommended to anyone who likes to travel by bicycle . Feel free to give my phone number for anyone interested in the details. If it was possible I would choose a trip of less km every day to be able to travel more slowly and comfortably and enabling missions to places that are not on track . Other than that it was really a wonderful trip ! Austrians are very nice, welcoming and happy to help .Bike shop's man was patient and charming. Stunning scenery, pleasant weather, even when it rained . Luggage were waiting for us when we reached the hotel. Bikes were comfortable and functioned fine the whole track without a hitch, user arrival at the hotel addresses and clear, and the summary It was a wonderful experience and unforgettable and very highly recommended ".
---
"Thank you very much and please thank everyone who took part in the existence of this trip . "
Irit Mazor, July 2014
---
"The ride was great – the weather not so great. We had a wonderful time overall. Great exposure to a country and it's history that most Americans are not very familiar with.
Austrian cafes and restaurants are problematic since they allow smoking most everywhere which we find disagreeable. The Heilig-Geist-Stift-Schenke had a great atmosphere and good food – Passau, a Cafֳ© on the main square in Grein – opposite end of the block from the rat haus offered a very nice non smoking room, the food at Aigner Kreuzen was good.
Our most interesting meal consisted of bread, smoked trout, and wine on Friday night served out of a shed in St Georgen outside of Traismauer. It's basically a take out place with picnic tables. Great experience. We enjoyed the open air Celtic museum in Mitterkirchen, the shipping museum and Hinterhausen ruin in Spitz, and wine tasting in the Schutz cellar in Mitterarnsdorf – far east end of town. The hotels were fine -often better than we expected for B level. Luggage transfer was fine.
The bikes were comfortable but very heavy – made climbing the bluffs difficult. The maps are very comprehensive but at times confusing as one has to switch between A & B, C & D etc. as you cross/recross the river. Suggest shorter maps with details for both sides of the river on the same page."
Harold Schmidt, April 2014
---
"All I can say as a feedback are only great words – Excellent and accurate logistics. Hotels and inns are superior level ( we did not expect such a level in that kind of a trip).We highly recommend everyone to read carefully and understand the instructions booklet you get at the first stop, at well as the booklet road maps. Also, we advise people not rush. Enjoy the day and stop roaming the towns and villages. I'd be happy to talk with people and give good tips regarding the best way to experience the high intensity of this week.
Mendy Blecher, June 2014
---
"The tour was fantastic. Having perfect weather was a bonus. It was very well organized and everything went to plan which is always great when one is travelling. The monastery in Melk was well worth visiting. A map of the Donauradweg would have been good to have."
Claudia Edwards, Summer 2013
---
"Overall it was an excellent trip and we appreciated the organization from Danube Cycle. We started in Passau and ended in Vienna. We have recommended your company to many of our friends. Also, there are so many Café's to recommend! The strudels were amazing! Don't miss the cafe and ceramics shop in Ottensheim (just as you leave town on the left). A particular recommendation is the only Indian Food restaurant in Linz, see TripAdvisor.ca. Not far from the hotel Trend. One of the best we have ever seen. We would recommend that cyclists carry their own lunches though… therefore you can stop at a scenic spot when you want and not have to wait for a crowded cafe. We simply bought bread cheese and fruit. There were many attractions (castles, wineries and abbeys) but we really didn't have the time to stop and see them. It should be explained that many of the smaller ferries do not operate until May. Regarding hottels/Inns – We opted for level A, and in future we would say, "Don't bother". One doesn't really have the time to luxuriate in the nice spa/hotels. It often seemed that our rooms had no view at all. Also, the idea of being shuttled to your hotel didn't really make sense. We wanted to stay near the river and be in the scenic towns, not isolated in the countryside. And then you have no choice but to eat at the hotel, rather than find your own preferred restaurant. Spitz was perfect: the hotel was right on the river and we could wander the quaint town in the evening. Our bikes were good except my wife's had continual brake problems and of course we were 10-15 km's from one of your suggested repair shops, so we had to find a kind car mechanic to fix it for us."
John Paterson, Summer 2013